Amanda was brought up in Florida near Orlando. She started playing the violin in the 5th grade, and had great string programs during junior and senior high school. She earned a Bachelor degree in Music Education and performance, and a Masters in Music Education and Performance. Amanda attended the Spoleto Festival in Spoleto, Italy, a festival in Graz, Austria, and has taught in the public schools in Cork, Ireland, and in Pinellas County, Florida.

From 1981-2000, Amanda played in the Florida Orchestra, under the baton of Irwin Hoffman, Jahja Ling, Skitch Henderson, Bobby McFerrin, Aaron Copland, and Joseph Silverstein. She has performed with Roberta Flack, Johnny Mathis, Carol Channing, the Smothers brothers, and many others. Amanda is included on VH1 Behind the Music in a feature about Marty Balin pf Jefferson Airplane fame, and can be seen playing next to Marty during a concert sequence. Amanda has performed solo with Vassar Clements, John Hartford, Bobby McFerrin, and Marty Balin (founder of Jefferson Airplane), along with local groups such as The Women's Blues Review, and Full Moon Rodeo.

Amanda started improvising in 1993, when she bought a Fishman transducer for her violin. Every week, she would go out and jam with various bands in the area, playing blues, jazz, new age, rock, and pop. In 1995, she bought a pink MIDI Zeta violin, and started using a Boss SE-70 effects unit. In 1998, Amanda acquired a handmade 5-string violin made by Robert Scoville.

In 1998, Amanda a purchased a laptop, and started playing MIDI files using the program Cakewalk, and using the music to play for weddings, receptions, and concerts. She has recorded all the music to an MP3 player, and can perform many hours of classical, jazz, new age, and pop music.

In 2000, Amanda resigned from the Florida Orchestra after 19 years. She started this new business in 1998 and it has prospered.

Amanda acquired a new PINK violin Vivo Ice in March 2007 made by Ted Brewer in England. It lights up!!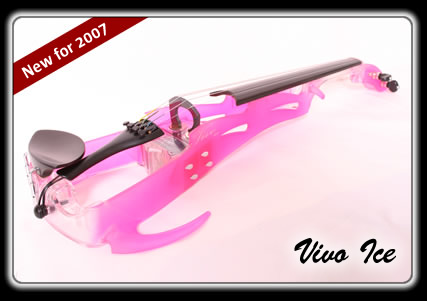 Here is Amanda and her pink MIDI Zeta violin, and 5 string electric violin made by Robert Scoville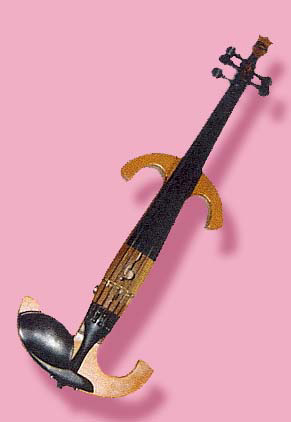 TRAVEL
Amanda's primary interests - other than music - are traveling, scuba diving, and photography.
In 1985, she backpacked throughout Europe, from England, Ireland, south of France, and all the way up north to Finland.
During a trip to Greece, Egypt, and Israel, she dove in the Red Sea, rode a camel near the pyramids, and took the ferry to many Greek islands. During 1990, she lived on a sailboat, traveling to Mexico, Belize, and Guatemala.
Later she traveled though out Australia, from the Great Barrier Reef, to Sydney and Tasmania. Then it was off to live in Auckland, New Zealand for 6 months, performing in the Auckland Symphony, and seeing the north and south island.
In 1997, she spent several weeks in Papua New Guinea, traveling from the highlands to see the "sing-sing show", to the river where she collected lots of interesting carved artifacts, and then to the sea, where she scuba dove one of the best spots in the world. In 1999, she took a 2-week safari throughout Kenya and Tanzania, and dove off the Seychelles, an island off of Kenya. In 2000, Amanda went on a tour of France, China, and diving in Kona, Hawaii. In 2001, Amanda went on an Alaskan cruise from Vancouver, B.C. to Anchorage, and went scuba diving in Grand Turk. In 2002, Amanda traveled to the island of Rarotonga, an island in the Cook Island's, in the south Pacific. She went scuba diving and experienced a south Pacific culture.
In the summer of 2003, Amanda traveled to Finland and went on a Russian River tour. In the summer of 2005, Amanda traveled to Spain, Portugal, and Morocco. In the summer of 2006, Amanda traveled to the Cayman Islands for scuba diving and a trip to Peru. In 2007, Amanda traveled to Thailand, diving in the Solomon Islands in the south Pacific near Fiji, Copper Canyon in Mexico and played the Fiddlestix Fiddle Fest in California. In 2008, Amanda had a great adventure tour to Costa Rica for a week.
In 2009, Amanda traveled to Indonesia for 3 weeks of touring and scuba diving, Dumaguete in the Philippines to scuba dive, and a week long tour of Vietnam. Amanda also took a three week trip to Malaysia to dive in Sipidan, and tour the island of Borneo.
In 2010, Amanda dove in the Socorro Islands off Cabo San Luca, Mexico, traveled to Tunisia in north Africa, spent a month in Costa Rica, and dove in Yap and Palau in the Pacific.
In 2011, Amanda traveled to Guatemala, Bhutan, and Bangkok in Thailand.
In 2012, Amanda traveled to England, Ireland, and Turkey.
In 2013, Amanda traveled to India, Mongolia, Iceland, and Eastern Europe.
Here is the new acoustic/electric custom made pink fiddle made by John Importuno of Tampa, Florida.

Photo taken by Jeff Williams